Fastening OmegaS with Omega profile and supporting profile
System description
Omega profile and OmegaS supporting profile permit vertical installation of the KeraTwin® facade panels. Secured to the vertical supporting structure, the OmegaS profiles arranged horizontally carry off wind loads and the dead weight of the panels is carried off by the supporting profile mounted in the height grid. The KeraTwin® K20 facade panels are simply hung horizontally in the Omega profiles using the holding grooves on the reverse side. No additional tools are required for mounting the panels. The compression spring integrated in the Omega profile prevents clattering and constraining forces in the case of alternating wind loads. Each KeraTwin® panel is secured using two securing angles to prevent it from slipping out. The horizontal joints can be open or closed with joint profiles.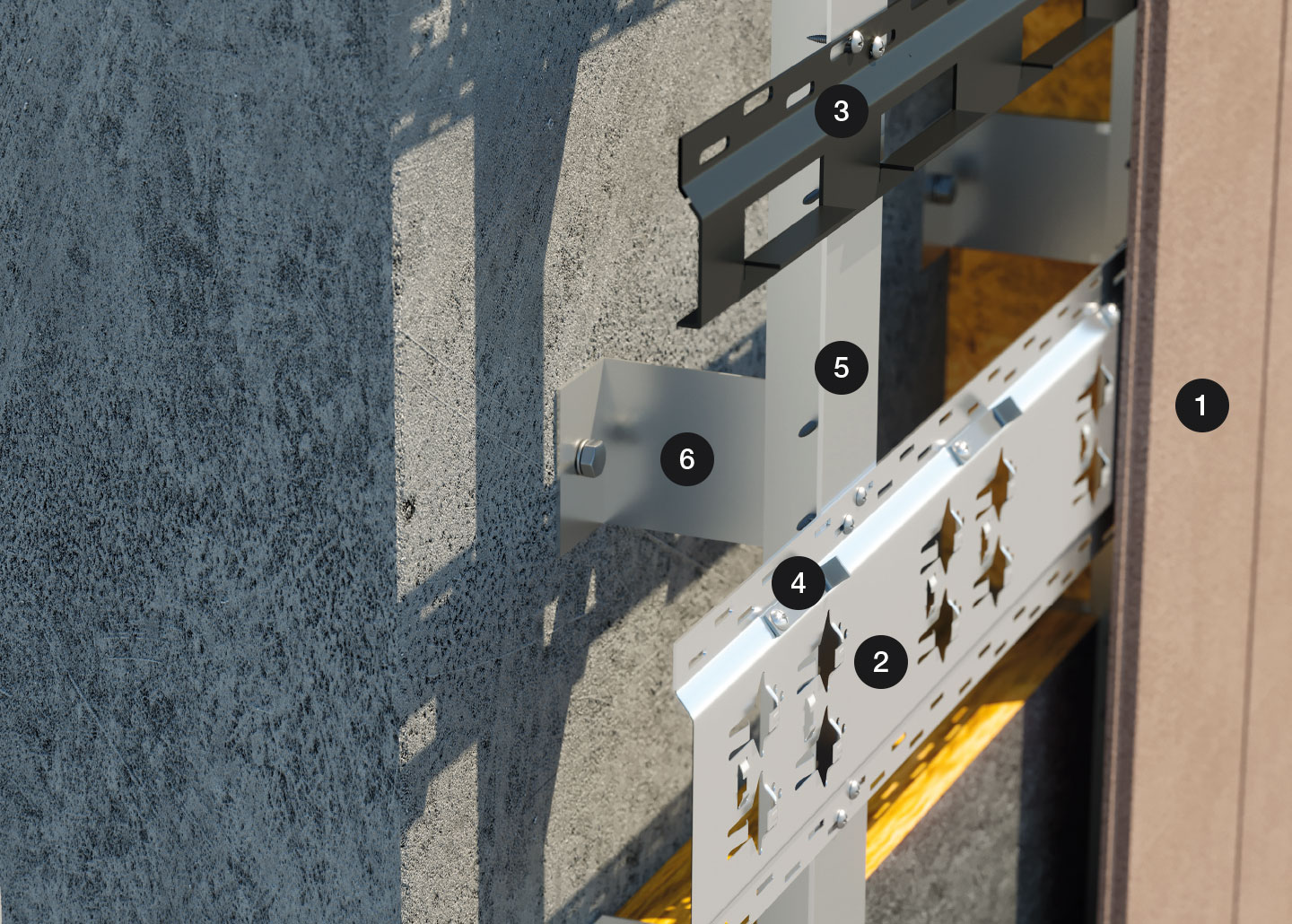 KeraTwin® K20 facade panel
Omega profile K20, Article 627
Supporting profile OmegaS, Article 710
Securing bracket, Article 711
Vertical bearing profile (basic substructure)
Wall bracket (basic substructure)
A profile butt joint of the vertical bearing profiles behind a panel is not allowed! See standard technical detail drawings.
Mounting instructions for KeraTwin® K20 – OmegaS with Omega and supporting profile

Substructure
The mounting of the substructure must be carried out according to project-specific, static calculation. The general approval Z-10.3-844 of the construction supervisory authority serves as basis.
The profiles of the basic substructure have to be mounted perpendicularly and in a flush way.
Fix the horizontal K20 Omega profiles (Art. no. 627) at the pre-installed vertical substructure by means of the supplied fastening materials. The vertical distance depends on the panel length - single-span girder (= 1/2 of panel length), with jibs on both sides (= 1/4 of panel length).
Mount the supporting profiles according to the height grid (panel length + 8 mm).
Fully insert the KeraTwin®-panels in the construction.
Position the securing brackets at both Omega profiles and fix them.
Accessories
Article 627
Omega profile, bright*
Material: AlMg3 H22
(EN AW-5754),
unpainted
Artikel 710
OmegaS supporting profile
painted
Material: AlMg3 H22
(EN AW-5754)
painted black RAL 7021
Artikel 711
Position securing bracket, bright
Material: AlMg3 H22
(EN AW-5754)
unpainted
Box contents: 50 pieces
Article 658
AI blind rivet, bright
Weight: 1.3 kg / box
Nominal dimensions: 4.8 x 10 mm
Box contents: 500 pieces
for Omega profile installation
Artikel 659-01
A4 stainless steel screw, bright
Weight: 1.4 kg/box
Nominal dimensions: 4.8 x 16 mm
Box contents: 500 pieces + 1 bit
or the fastening of Omega profile,
OmegaS and position securing
bracket
Article 688
Joint profile
Material: EN AW 6063 T66
painted black, RAL 7021,
RAL-color-painted
on request
Length: 1496 mm
Article 689
Holding clip for joint profile
Material: AlMg1
(EN AW 5005 A)
unpainted
Box contents: 100 pieces
Omega profiles and OmegaS supporting profile available for all standard grids. Other grids available on request.
Important: The use of silicone caoutchoucs must be absolutely avoided, because silicone fluids segregate and effect sticky surfaces on which dirt adheres. Therefore, only use the system components mentioned (foamed pieces, EDPM rubber profile, neoprene rubber washer) and pointing, bonding and sealing materials recommended by us. We will be pleased to inform you in detail. The usual final cleaning after completion of the construction works is still required. A warranty for the system KeraTwin® K20 in the scope of the general approval no. Z-10.3-844 of the construction supervisory authority only applies if the system components shown on these pages are used.