ETICS: aesthetic ceramic – outstanding energy efficiency
Energy-saving, noise-insulating, weatherproof and attractive over the long term: External Thermal Insulation Composite Systems (ETICS) fulfil all requirements on a perfect building shell, whereby the ceramic covering not only proves to be durable and color-fast – the large selection of sizes, surfaces and colors also offers extensive possibilities for design. Special customised products – a particular strength of AGROB BUCHTAL – reveal additional levels of freedom as illustrated by the reference projects on this website.
External Thermal Insulation Composite Systems comprising three components (insulating layer, reinforcement and surface covering) save heating costs while providing thermal protection in the summer. New guidelines governing facade insulation will increase the significance of TICS in the years to come. Nevertheless, only approved system components should be used, e.g. non-flammable insulation systems with mineral wool or rock wool insulating panels with ceramic surface covering for high-rise facades and more stringent fire safety requirements. Considerable advantages are also offered by TICS facades following building refurbishment projects: leasing is facilitated and Hytect coatings mean that low-maintenance facades generate only minimum maintenance costs.
---
ETICS: system design
The External Thermal Insulation Composite System comprises insulating boards fixed to the wall using plugs and bonding mortar. A ceramic covering is fixed by bonding on an integrated textile glass reinforcement mesh. The joints must occupy a surface of at least 6% per square metre. Installation of this system is based on the respective general approval provided by the construction supervisory authority. A test certificate is available for the application of ceramics on a thermal insulation composite system.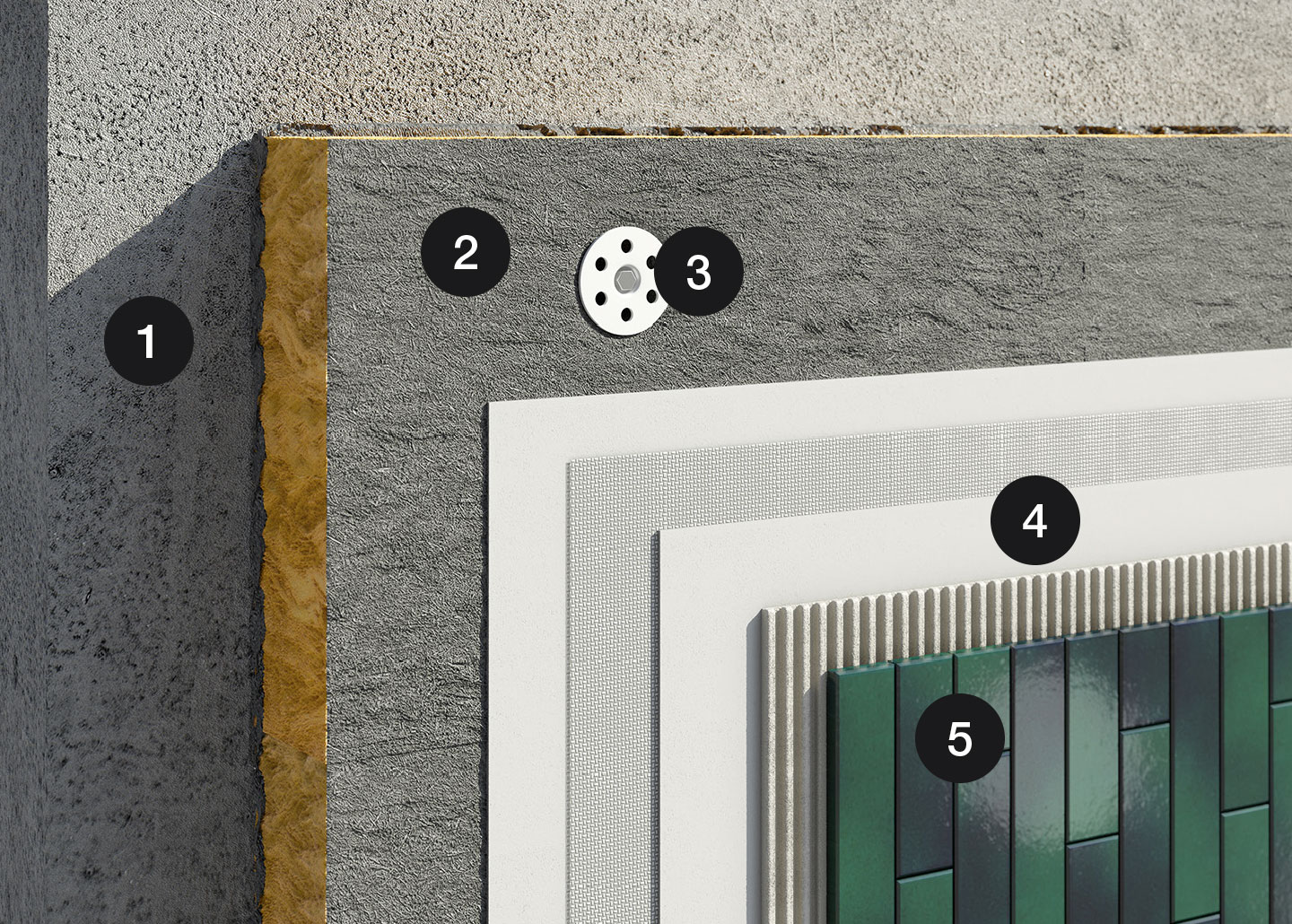 Wall
Insulating board
Fixing by plugs
Bonding mortar with reinforcement mesh
Ceramic covering material